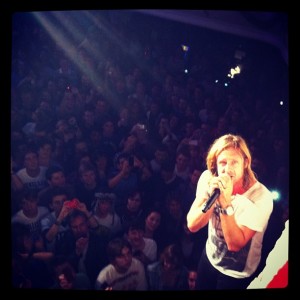 If there's one person on this earth whose songs have changed my life, it's Jon Foreman. I, like many people, was first introduced to his songs through the movie, A Walk to Remember (I'm not ashamed to admit that I enjoy a good, sad romance flick). I was about fourteen at the time, and I developed a slight obsession with film's feature song, Only Hope. I learned how to play it (to an effect) on the piano, and sang it at least seven times a day for a good while. I remember seeing the name "Jonathan Foreman" on the sheet music I was reading from and thinking, "This guy knows how to write a song".
httpv://youtu.be/xWvtqFddh8k
Although Only Hope made an impression on me, I never fully grasped what it was about until a few years later. I had initially assumed that it was just another boy-girl love song (albeit a really, really good one). I knew that the song was originally by a band named Switchfoot – I'd even listened to their version a few times. I'd also heard that they were a "Christian Band", whatever that meant.
In 2007, I met my husband, Cuan. When we began dating, he mentioned Switchfoot often. By then, I'd heard a few more of their songs, but not really paid them a great deal of attention. It soon became apparent Switchfoot were Cuan's favourite band. As such, I started checking out some more of their songs, and listening more closely.
From the very beginning of our relationship, Cuan and I had lots of intense discussions about God, faith and the Bible. I believed in God, but I couldn't wrap my head around the idea that Jesus died for me (or anyone else). I listened to Only Hope a LOT at that time. I let it play on repeat every chance I got, and let each word penetrate my very soul (which is fitting, considering the opening line is, "There's a song that's inside of my soul…"). The more I listened to it, the more I became convinced that the God this man was singing to is real, alive, present and loving. The words, "I pray to be only Yours; I know now, You're my only hope…" resonated in the empty space in my heart, and I realised that I was not created to live this life on my own.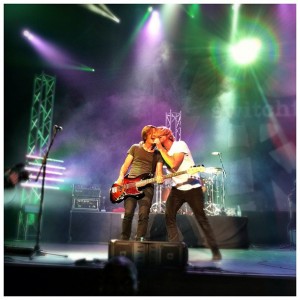 Of course, Cuan's prayers and testimony were instrumental in my conversion. God used him, along with this amazing song, to lift the scales from my eyes. I am forever grateful!
When I finally accepted Jesus as my saviour, I knew I wanted to write songs like Only Hope, that could move people and communicate the love and grace of God in a real and tangible way.
Eventually I discovered that Only Hope was not the only inspired (and inspiring) song that Jon Foreman had ever written. It turns out that he has a song for pretty much every profound or difficult thing I've experienced. Let That Be Enough is another song that holds particular significance to me. It's my go-to song. When I'm struggling with something, when I lose sight of the hope that I have, I listen to that song.
I've had the privilege of seeing Switchfoot live on two occasions – once in London, and once in Cape Town. After the Cape Town show, I was lucky enough to experience a Jon Foreman After-Show. Every few shows, Jon will meet fans in the parking lot or lobby after the gig, to share a few more songs with those who want to hear (NB: NEVER go home from a Switchfoot gig without checking Twitter first!). At the Cape Town after-show, one of my dreams came true – I got to hear Only Hope, sung straight from the mouth of it's author.
I've thought long and hard about the best way to thank Jon Foreman for all that his songs have meant to me over the years. How could I possibly make him understand the extent to which his words have affected my life? Even this post seems inadequate in truly conveying the extent to which his songs have changed me, both as a person and as a songwriter. I suppose the greatest way we can thank those who have made our lives better through their art is to pray for them. In addition, let me publicly say:
THANK YOU, JON FOREMAN!
Top 10 Jon Foreman/Switchfoot Songs (choosing 5 was just too hard):
1. Only Hope (New Way To Be Human – Switchfoot)
2. Let That Be Enough (New Way To Be Human – Switchfoot)
3. Revenge (Oh! EP – Switchfoot; Spring EP – Jon Foreman)
4. Let Your Love Be Strong (Oh! Gravity. – Switchfoot)
5. Happy Is A Yuppie Word (Nothing Is Sound – Switchfoot)
6. The Blues (Nothing Is Sound – Switchfoot)
7. The Shadow Proves The Sunshine (Nothing Is Sound – Switchfoot)
8. Twenty-Four (The Beautiful Letdown – Switchfoot)
9. Up Against The Wall (Fiction Family Reunion; Holiday EP – Fiction Family)
10. Love Isn't Made (Spring EP – Jon Foreman)
Has Jon Foreman's music influenced or inspired you in some way? Have you experienced a Jon Foreman After-Show? I'd love to hear from you in the comments section below!
Photos courtesy of Cuan Korsten