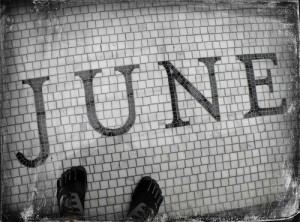 Last week I wrote about the fact that I felt bad for failing to upload all thirty of my "Songs of June". I started off well, but then life got busy and I lost momentum! Also, it's harder not to get perfectionistic about it when you've given yourself longer than 24 hours between conception and recording! But I always try to be a woman of my word, and given that I've been promising people for a while that I would eventually finish recording and uploading the songs, I figured that it's about time I made good on that promise.
So, I'm very excited to inform you that the talented folks at Glory to God Motion Pictures, who did an amazing job on our official music video for Am I Lost, have offered to help us film the Songs of June! Which means that rather than recording in my bedroom on my laptop, we'll be able to shoot the thirty videos in a variety of cool locations!
We will begin filming the videos this Tuesday, so stay tuned! My plan is to upload one video per week, most likely every Sunday.
I'm so excited to share this journey with you – this time to completion!
Thanks for your patience!
Mali.xxx
Photo courtesy of George Landon.