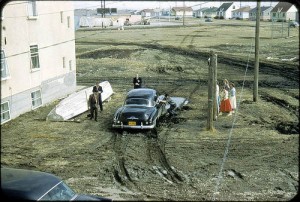 We all know musicians who spend their entire careers playing gigs in one small town, never really reaching new audiences and thus never building a following. Some people are perfectly happy with this, and that is absolutely fine. But if you're hoping to make a bit more of an impact, it's important to not get stuck in a rut.
So how can we avoid going nowhere slowly? I think there are a few simple things that we can do to keep our careers moving forward:
1. Tour. Reaching new people in new places is important to career growth. If you don't have fans in different towns yet, ask friends and family to host House Concerts. They can invite their friends, who might love it so much that they decide to host a concert at their place next time you're in town. This is a simple and effective way to continually expand your reach. Playing in the same town for ten years will only get you so far – eventually all the people who dig your kind of music will have heard you play, and you won't have any new supporters coming on board.
2. Regularly create new content. Frequently putting out new songs, videos, posts, newsletters/emails (within reason – no one wants to be spammed), etc. will not only keep your current followers interested, but will also prompt them share your content (people will share what excites them, and new material from an artist they love is likely to excite them). This will enable you to be seen and heard by people who might otherwise have remained oblivious to your existence!
3. Do something small every day. Whether it's sending out an email to the people on your mailing list, organising a show, writing a great new song, making some new connections on Twitter, creating a little info pamphlet to leave at the local music shop, or uploading a new video to Youtube, try to do something every single day that will further your career and enable you to reach new people. Lots of small things added together can equal big results.
I'm sure there's much more that one could add to this list, but I think it generally comes back to these three practices. You might not become a superstar overnight (which is a good thing, as such careers are rarely sustainable), but implementing these things will ensure that your career continues to move steadily forward.
Photo courtesy of James Tworow