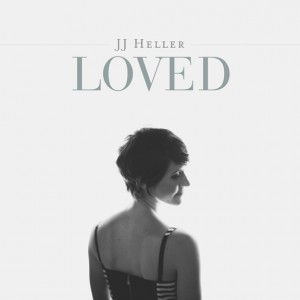 I've lost count of the amount of times I've been told I need to write "happier" or more upbeat and commercially viable songs if I hope to be a success. I decided early on in my career that I wasn't going to compromise my art in the hope of becoming a mainstream success – I want my songs to mean something, even if that means that they have less mass appeal. Imagine my joy when I first discovered an artist who is doing the exact same thing, and making a great success of it. That artist is JJ Heller.
I'm a firm believer that songs should tell a story. Sadly, the mainstream music industry doesn't seem to agree with me. JJ Heller is one of a few contemporary artists I've discovered who understands (and has mastered) the art of story-telling through song. Listening to her music is like reading lots of little books – each story is detailed and complete, despite being an average of just three-to-four minutes long!
Credit must also go to her husband, Dave Heller, who co-writes the songs and plays guitar, as well as singing backing vocals.
An addition to their story-telling, another thing I love about the way the Hellers write is that they have an aptitude for crafting great melodies. A lot of current music is monotonous in comparison with the melodic songs of the past. JJ and Dave do not neglect this important aspect of songwriting, and seem to have a clear understanding of the concept that a great melody will enhance and support the central story of a song.
To date, JJ has released six studio albums and one EP. Her latest record, Loved was released last week, and has already been making a huge impact on its listeners (myself included). Produced by Cason Cooley and Ben Shive, the sound is quite a radical departure from her past records. This was a very brave move, and it really paid off. I love it when artists continually grow and take risks, rather than just sticking with what they know works. Loved is less "stripped" than previous albums – heavier on the drums, bass, keys and effects. Production-wise, it's reminiscent of Sarah McLachlan's Afterglow album, but with a unique identity of its own. The production is tasteful and a wonderful enhancement to the songs, which are so good that they stand up all on their own, even when all the extras are stripped away (as is proven by the acoustic bonus tracks on the deluxe version of the record).
This post would not be complete if I didn't mentioned JJ's voice. The first time I heard her sing was in 2008, when my husband, Cuan played me her album, Only Love Remains. In this age of X-Factor and American Idol, where "power" and volume seem to be the only things that impress, it was so refreshing to hear someone singing straight from the heart. JJ's delivery is honest, unpretentious and, quite simply, beautiful. She doesn't give in to the temptation to use her vocal ability un-tastefully, for the sake of being "flashy". She sings in the way which best services each song, delivering each story with beautiful sincerity. Tonally, there is something about her voice that brings a lump to my throat whenever I hear it. I would even go so far as to say that JJ's is my favourite of all the female voices I've heard.
Watching JJ Heller's career soar has given me hope – hope that there really are plenty of people out there who like music that deals with real issues, that isn't superficial or shallow. Hope that it really is possible to be a successful independent artist, without the backing of a major label. I encourage you all to support JJ, so that she and Dave can continue doing what they do so beautifully. Now, more than ever, we need to be celebrating and investing in the artists who are creating something authentic and heartfelt.
My Top 5 JJ Heller Songs:
1. Kingdom Come
2. Loved
3. Control
4. What Love Really Means (Love Me)
5. Who You Are
Has JJ's music inspired you in some way? Let me know in the comments section below!
Purchase Loved and other JJ Heller albums here
Visit JJ's Official Website
Follow JJ on Twitter
Like JJ on Facebook