Attention, Songwriters!
WANT TO OVERCOME WRITER'S BLOCK?
Learn how with "A Practical Guide to Creative Songwriting"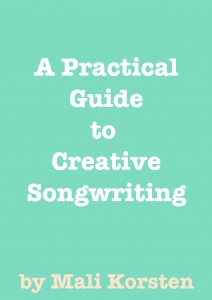 Dear fellow songwriter,
What if I told you that inspiration is within reach at all times?
Every songwriter has experienced those dreaded occasions when writing or finishing a song feels like pulling teeth. All writers wish that inspiration would be available to them whenever they require it. This book shows you how to proactively seek out inspiration, instead of just waiting around for it to fall into your lap.
Tried and tested tips and techniques!
This book covers a wide array of songwriting principles, ranging from the basic to the more advanced. These include:
How to write songs that you can be in love with
The power of imagery
How to strike a balance between obscure and obvious
Solo writing VS co-writing
Developing your pre-production skills
The importance of keeping a notebook
How to create a clear definition between sections
…and many more!
12 simple exercises designed to stimulate creativity!
These easy exercises were designed to help you get inspired and learn how to write songs that you can really love.
How do I know that these methods work?
Like any writer, I've experienced my fair share of writer's block! The tips and exercises contained in this book are based on techniques that I developed in order to overcome my own creative dry-patches. One of the exercises even led to me winning first place in the 16th Annual Barleycorn Songwriters' Competition. Since then, I've taught these principles in songwriting workshops, and have witnessed first-hand the amazing results they yield when properly implemented.
All the tools you need to overcome writer's block for just $10.00!
The information contained in this book is worth much more than $10.00. But I don't want anything to stand between you and your next great song, so I've chosen to make it available at an extremely affordable price.
Printable workbook, absolutely FREE!
Keep all your exercises contained in one handy location with the free printable workbook. Each exercise is clearly laid out with a workspace below, to make completing the exercises even simpler!
30-day money-back guarantee.
I'm confident that you won't be disappointment with this book. However, if it doesn't live up to your expectations, contact me within 30 days of purchasing the book and I will give you all your money back. I'm taking a huge risk by doing this – I can't get the book back from you. You could just buy the book and ask for your money back before ever even reading it. But I'm choosing to trust your integrity, and believe that you will do the honest thing.
Become a better songwriter today!
We all want to become more skilled at our craft. After all, who wants to be average? Purchase "A Practical Guide to Creative Songwriting" using the order form below and start learning how to write songs that are far from ordinary!
Buy Now!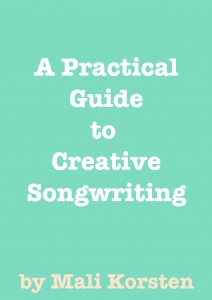 +
FREE Printable Workbook
Tips, techniques and exercises to help you become a better songwriter