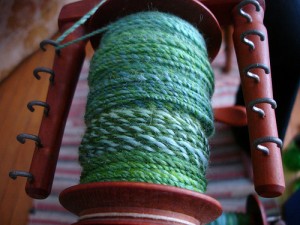 As I mentioned in a previous post, I believe that all songs should tell a story. One of the easiest ways to tell a beginner from a more seasoned songwriter is by looking at how much attention they've paid to maintaining continuity of narrative. Beginners will often spend an entire song describing scenery, rather than setting the scene as a foundation upon which to build their central story.
Fellow songwriters: don't fall into this trap! While it can be a good way of getting into songwriting and discovering your creative voice, I encourage you to not get stuck in that stage of your creative development. If you're not already incorporating the art of storytelling into your songs, then aim to start today!
So what do I mean by storytelling? Well, I don't mean that all songs must be written in a past-tense, third person, once-upon-a-time kind of style. What I mean is that each song should have a central theme or message, and that everything in your song should help support and convey that message.
The kinds of songs that don't tell a story are those that spend an entire three-and-a-half minutes (or more) talking about how the sun is shining and the sky is so blue and the sand is warm, etc. Descriptive language and scene-setting should enhance your story, not replace it. So go ahead and talk about the sky, but not to the exclusion of a central story. Imagine reading a book that was all description and no plot! You probably wouldn't even make it through the first chapter before getting bored and giving up.
Great examples of storytelling songs:
1. Yesterday – The Beatles
2. Make Believe – JJ Heller
3. Devils and Dust – Bruce Springsteen
4. Dirt – The Collection
5. Driving with the Brakes On – Del Amitri (in fact, just about every song by Del Amitri)
6. Fountain of Sorrow – Jackson Browne
7. A Case of You – Joni Mitchell
8. Ain't My Home – Marc Scibilia
9. The Lighthouse's Tale – Nickel Creek
10. Let That Be Enough – Switchfoot
Each of these songs is written in such a way as to grab your attention from the very first line and hold it for the remainder of the song. Their subject is clear, and every adjective and descriptive phrase is used as a tool to drive the central story or message home.
Start listening to story-telling songs like the ones listed above, and take note of the ways in which the writers weave together a complete and cohesive narrative, all the space of a few short minutes. Next time you write a song, be clear on the story you're trying to tell, and let everything else support that.
Do you think story-telling is an important aspect of songwriting? Is this something you've struggled with or would like to learn more about? I'd love to hear from you in the comments section below!