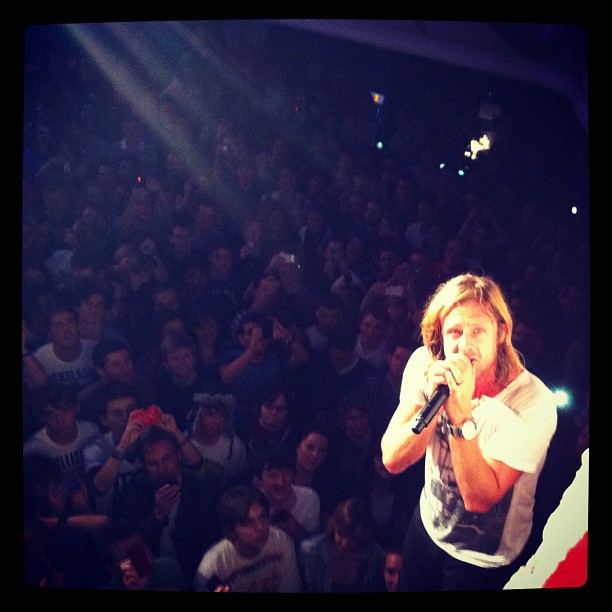 Last week I listed six classic songwriters who changed my life. But it's not just the old faithfuls who have had such a profound effect on me – there are just as many contemporary songwriters whose songs have done the same. Here are the top six (in no particular order, except for the first one!):
1. Jon Foreman
I've gone into more detail in a previous post as to how and why Jon Foreman's have changed me, both as a songwriter and as a person. I could probably write an entire book detailing the many reasons why I love his songs, but suffice it to say that his words turned my world upside down and made me completely reevaluate my life, and I'm forever grateful.
httpv://www.youtube.com/watch?v=SgnMDXMjYHM
2. Josh Garrels
He reaffirmed my belief that you can create a successful career in music without being signed to a major record label, as long as you're prepared to work really, really hard. His generosity in regularly giving away his music for free opened my eyes to the value of making a gift of your gift. Artistically speaking, his music has inspired me to push more boundaries and venture a little further left of centre.
httpv://www.youtube.com/watch?v=NsCmeKC_dV4
3. John Mayer
His music reminds me that all three aspects of my craft (songwriting, singing and playing an instrument) are important and that none of these components should be neglected. He is such a master of all three that he continually inspires me to work harder at all these elements. His songs are filled with amazing imagery and clever storytelling, and I've learned so much about songwriting through listening to him.
httpv://www.youtube.com/watch?v=aojTGWAqUIQ
4. JJ Heller
If ever I need a good cry, JJ's songs are my go-to. They are written and performed with such heartfelt sincerity that I usually tear up pretty quickly when listening to them! Her music gave me the confidence to continue writing from the heart and stop worrying about whether my songs were upbeat or radio-friendly enough. She is living proof that honesty still has an audience.
httpv://www.youtube.com/watch?v=F8jilr8qsYU
5. Nerina Pallot
When I was younger, I thought the guitar was a man's instrument. I viewed it as being inherently masculine and believed that it didn't "suit" girls. This probably had something to do with the fact that my father was (is) a professional guitarist, so my main reference point for what constitutes a guitar player was the dominant male figure in my life. Anyway, when I was 13 and discovered Nerina, I came to the realization that it was not only okay for girls to play the guitar, but it was pretty much the coolest thing ever. I never looked back.
httpv://www.youtube.com/watch?v=BM82uuiYvXs
6. Tina Dico
I got into Tina's music when I was just getting serious about songwriting and guitar playing. Her songs were some of the first that I became reasonably proficient at playing and singing at the same time, and learning how to play "Room with a View" was an education in finger picking. She also taught me that you don't have to be a soprano to be a great female vocalist (credit also goes to Karen Carpenter – hurrah for contraltos!).
httpv://www.youtube.com/watch?v=RnMQnQACvPE
Photo courtesy of Cuan Korsten.